Manufacturer of picture rails since 1879
Specialist in picture rails and hanging systems for high-end paintings and frames.
Buy your picture rails online
Maison Boyer, the chair rail specialist
Maison Boyer is the specialist in hanging systems for frames and paintings in France and abroad.
Founded in 1879, it manufactures picture rails in an artisanal way allowing the attachment of any type of support, ranging from a simple photograph to the heaviest works of art.
Its clients are very varied: individuals, architects, interior designers, gallery owners, museums.
But before talking in more detail about Maison Boyer products, let's first recall the operating principle of a picture rail.
How it works
a picture rail?
Picture rails are rails that are fixed between the wall and the ceiling of a room. These hanging rails can go around a dining room, a living room, an office, a hallway or be fixed only on a section of the wall, depending on the choice of its user.
Painted in the color of the wall, these rails are thus very discreet and blend perfectly into each interior space. On these rails are hung any type of support (photographs, frames, paintings, works of art).
The incomparable advantage of this system is twofold: no hole in the wall is required to hang the picture, and each picture can be moved on the rail as the user wishes. It is therefore very easy to change the decor of your room, by reversing the paintings in place, or by placing new paintings on the hanging rails according to your desires.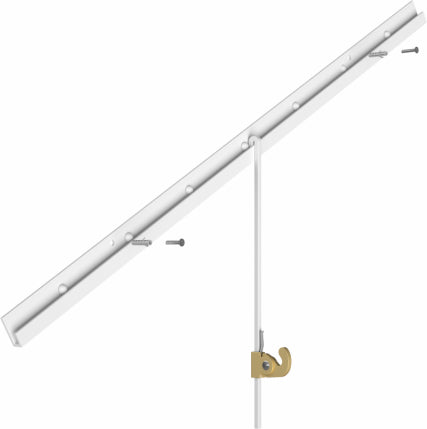 Why choose picture rails from Maison Boyer?
Maison Boyer has created its reputation by distinguishing itself from its competitors on many technical points.
Why choose picture rails from Maison Boyer?
Maison Boyer has created its reputation by distinguishing itself from its competitors on many technical points.
HANGING RAILS
HEAVY-DUTY STEEL
Indeed, its hanging rails for pictures are unique in that they are made of steel and not aluminum. Steel being incomparably more robust than aluminium, Maison Boyer's hanging rails are therefore the only ones to allow the safe hanging of paintings ranging from 20kg to more than 400kg.
The undeniable advantage of these rails in steel finish is that they allow, once installed on the wall or ceiling of a room, to hang and move all the paintings as the user wishes, without worrying about the weight carried by the rail. You can therefore have another 80kg painting next to a 20 kg painting.
A complete set of picture rails is provided for hanging the pictures, including the steel rail, a rod also in steel which will only be placed on the rail, and a picture hook allowing the painting to be fixed to the rod.
HANGERS THAT ADAPT
AT ANY HEIGHT UNDER THE CEILING
Here again, Maison Boyer is distinguished by the length of these rods which allow frames and paintings to be hung regardless of the ceiling height of the room in which the picture rails will be installed. Indeed, these rods being manufactured in a traditional way, they are proposed in length from 1m to 6m answering any problem of height under ceiling. You can therefore easily hang paintings even if your ceiling height is significantly high.
Although it is generally advisable to place the center of the picture at 1.50 meters from the ground to be at the eye level of an adult person, the picture hook being adjustable over the entire height of the rod, its user can choose to adjust the position of the table to suit your needs.
MORE THAN 200 COLORS
PROPOSED FOR YOUR HANGING RAILS
The picture rails of Maison Boyer are available in white but also in more than 200 colors.
Maison Boyer offers the widest choice of colors on the market and thus allows its picture rails to blend in perfectly with all interior spaces.
The paint, applied by powder coating, is of impeccable quality and allows a very long use of the complete set of picture rails. In order to know the color of your wall, you can use a color chart and give us the identified RAL number. We will reproduce the requested color identically. Of course, the rods are also painted in the same color as the hanging rail.
THE ONLY MANUFACTURER
ABOUT CUSTOMIZED SOLUTIONS:
The handcrafted manufacture of picture rails from Maison Boyer makes it possible to adapt to all your requests.
In addition to offering hanging rails from 1m to 4m, rods from 1m to 6m, and more than 200 colors for your picture rails, Maison Boyer supports you on all of your projects.
Do you want to hang paintings along a staircase? Do you only want rods that fit specially on your pegboards or round rods? Do you want rails to be fixed on a ceiling rather than on a wall? Do not hesitate to contact our technical department, we will listen to all your requests, even the most specific ones.